I read a well-written article on The Journal about allegations of abuse and injuries of unknown origin.  As a nursing home abuse and nelgect lawyer, we hear these type of allegations all the time, and often see photos of disconcerting bruises, skin tears, and other injuries that the nursing home refuses to explain to the resident's loved ones.
The article deals with incidents of sexual assault, unexplained injuries and poor hygiene standards in nursing homes in Ireland.  Documents show that since January of this year specific concerns were raised about staffing issues, nutrition, residents sustaining injuries and fire and safety issues.
In one piece of correspondence sent to the health watchdog Hiqa, it is alleged that a person received an anonymous letter stating that a resident "suffered physical and sexual assault by another resident".  Hiqa is responsible for the monitoring, inspection and registration of designated centres for older people, such as nursing homes, in Ireland.
In that same entry, it is claimed that staff were "instructed not to record the incident".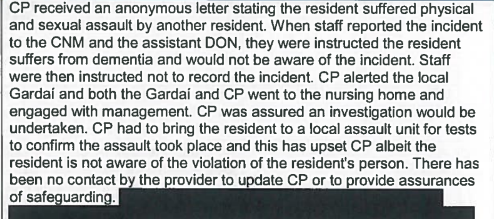 Source: Hiqa
Another piece of information from a concerned person claims that a resident "was naked from the waist down" and "standing at the head of the bed" in their relative's room.
This person also claimed "another resident previously entered relative's room and urinated all around it".
A recurring theme within the documents is residents experiencing bruising.
In one instance, a concerned person (CP) claimed that a resident "suffered a number of assaults by another resident who has challenging behaviour".
In another instance in the documents, it is claimed that a resident had "significant bruising on a number of occasions".
"Medical attention was not received by resident until 3 days after a fall," it was alleged.
One concerned person claimed a resident "suffered unexplained bruising on the face".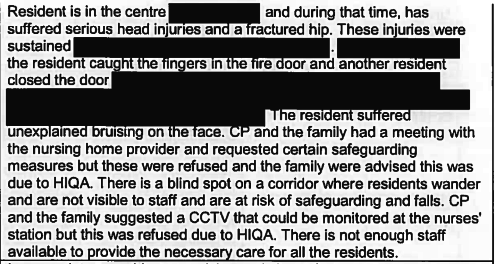 Source: Hiqa
Another piece of information outlined that a relative visited a centre to find a resident "sitting in their bedroom very upset and crying".
"Resident has Dementia but could not communicate what was wrong. Relative lifted the resident's clothing to find bruising on their arm," it was claimed.

Source: Hiqa
In another instance, it is alleged that a resident "banged their head" and that the family were not informed.
"When another relative visited they noticed the bruising and also that the resident was in soiled, wet clothing in the activity room," it was claimed.
It continued: "The following day when relative visited again they noticed blood on the bandages used to cover [redacted] ulcer and discovered that the blood was not from ulcer but from a fresh cut.
When relative touched resident's arm to try hold her whilst investigating the fresh cut they were in pain. Resident transferred to [redacted] hospital and tests confirmed they had two fractured bones in their arm and a lot of bruising under their arms.
The concerned person alleged that "staff cannot give an explanation as to how these injuries occurred".
Other common issues raised within the documents include hygiene issues, concerns over building standards and staffing worries.
One document alleges that "residents are left in soiled incontinence wear for long periods of time".
Another piece of information claims that a person found their relative "cold, hungry, soiled and upset" when they visited.
In another complaint, concerns were raised over a resident "not being encouraged to eat or drink".
In relation to staffing, Hiqa received numerous pieces of unsolicited information.
One person raised concerns regarding staffing levels, "especially at night time". They claimed that staff are "constantly rushed off their feet".
The person said they had "witnessed call bells ring constantly without being answered". They claimed this was because they were "attending to residents who need constant monitoring".
Another complaint alleged that there is a "lack of supervision" in the day room in the nursing home in question.
One person complained that "there was a lack of appropriate care to meet the needs of the resident".
The document outlined that the concerned person brought the resident home and discovered they had been "given medication that was prescribed for another resident".