The Advocate has had a series of articles about the failed and corrupt system of long term care in Louisiana.  One article explained how lobbyists and campaign contributions control the legislation passed by the politicians.
A team of government experts and industry stakeholders spent more than two years painstakingly crafting a plan that would have reduced Louisiana's expensive and unpopular reliance on nursing homes to house the state's most helpless residents.
But it took just one email from the head of the industry's powerful Louisiana lobby to kill the reform even though estimates show the state could save more than $100 million a year while improving patient outcomes.  Months before he pulled the plug on the long-term care overhaul, Jindal received a pile of checks from nursing home interests in support of his quixotic presidential campaign. The stack added up to about $370,000 — roughly 5 percent of the total he raised. The industry had long been stuffing Jindal's coffers: As governor, he had taken in nearly $800,000 from the industry.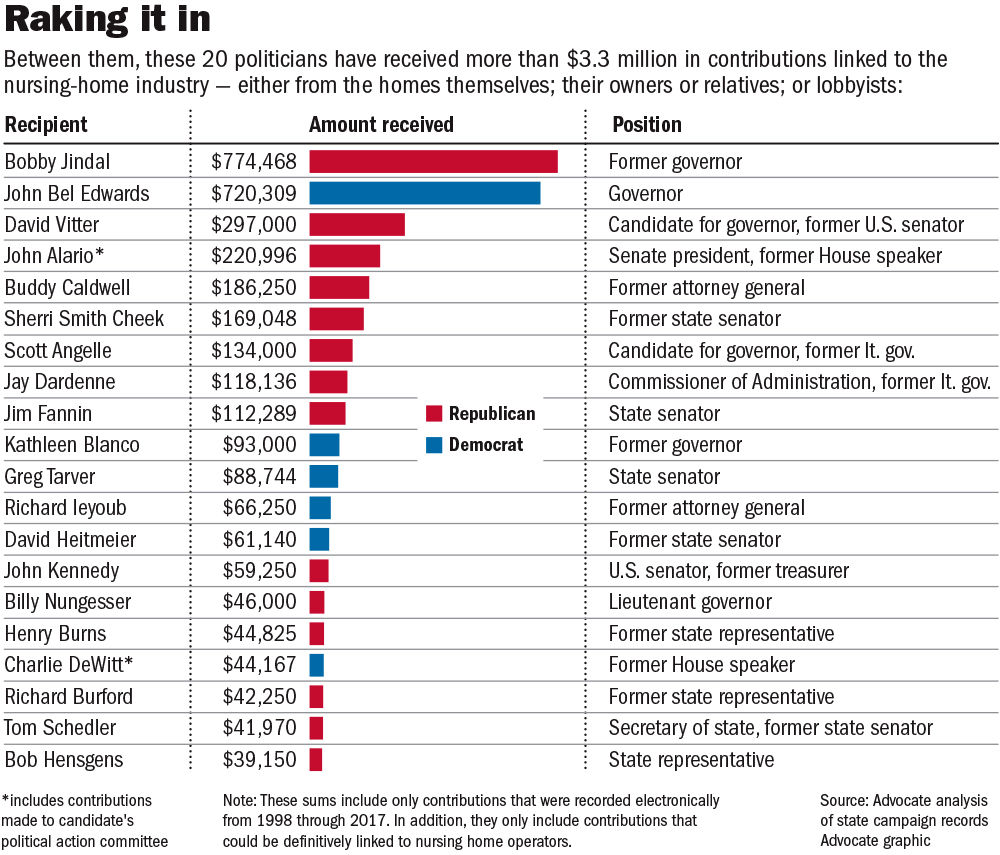 Over many decades, industry leaders have made themselves perhaps the state's most powerful lobby, enjoying unfettered access to the state's policymakers and protecting their profit margins even in the worst of budgetary climates. The Louisiana nursing home industry is a juggernaut in Louisiana's political fundraising arena, with much of the muscle provided by three prominent owners: Ronnie Goux, Elton Beebe and Teddy Ray Price.
This year, the 259 nursing homes in Louisiana that accept Medicaid are slated to take in more than $1 billion in public funds. That's roughly 4 percent of the overall state budget and about 10 percent of the state's Medicaid budget — a bigger slice than any other sector, including hospitals and physicians.